Spring Break April 3rd to the 7th
Compact Day (s) - FRIDAY, March 31st - all students dismissed at 12:54
Spring Break - April 3-7
March 29th is open house and Friday March 31st is a compact day with all students being dismissed at 12:54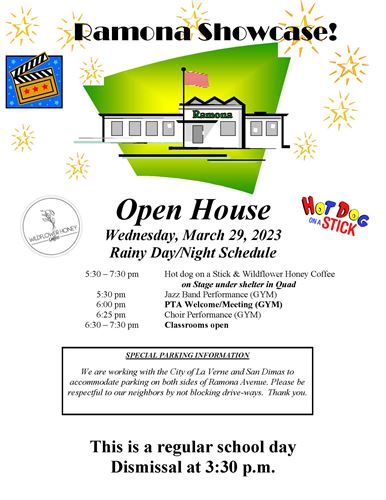 Attention Ramona Students and Parents.
Ramona will no longer accept food deliveries at lunch via any food delivery service. Since Winter Break, the number of door dash, uber eats and pizza orders from students has increased to a point where the office can no longer manage the deliveries. Sometimes, there are issues with payments and/or tips or drivers want credit cards to verify, and the office staff will not call students out of class to resolve issues. There are also times when food isn't labeled and students pick up food that does not belong to them. As a result, we will no longer be accepting deliveries from any of the food services.
As you know, the cafeteria is offering 2 meals a day to all students – all they need is their ID number to have access to meals from the district kitchen. Students are still welcome to bring a lunch from home in their back-pack to eat during their nutrition or lunch break.
Thank you for your cooperation and attention to this matter.
____________________________________________________________
Attention all 7th grade students applying for the 2023-2024 ASB class. The final day to turn in the application and return all signed forms is Wednesday, March 15th. Applications are turned in on Google Classroom and signed forms are turned into room D1 or the Student Store. If you have any questions please see Mr. Duran.
____________________________________________________________
Dream of going to new York City? Drama Society's Touring Group will be going on a Theatre trip to the Big Apple February 8th – February 12th of 2024.
ALL STUDENTS ARE WELCOME TO APPLY,
even if you have not been a part of the Ramona Drama Society yet this school year
! There was an application meeting today during your student's lunch!
Here is a link to the Google Slide Deck
including a General Overview of the trip and application process! See Mr. Campbell in G1 for an application, or you can print and fill out the attachment! Applications are due by end of school day Thursday, March 23rd.
There are many online tools you can use to support your Viking's learning at school. Check out the Slide show linked below to learn how to create Aeries and Canvas parent accounts.
Monday-Friday 7:30am to 4pm
School Phone: 909-971-8260 School FAX: 909-971-8269
If you cannot visit the school, reach out to anyone below. Leave a voicemail or send an email, and we will get back to you as soon as possible.