Ramona Class Schedule – Week of January 18th.

Now on sale - order yours today! Have your Students ID number and Click Here
Information for the Ramona School Community regarding the reopening of school to in-person programming can be found here by
CLICKING HERE
.
Chromebook issues email or call the CIS department
Make sure you leave a contact number, your students name and school
---------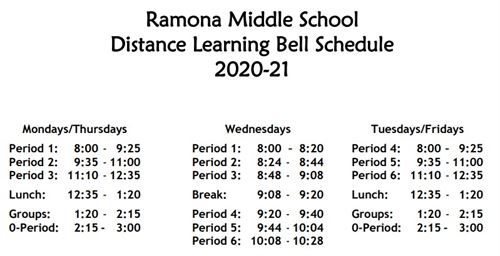 Click Here to get information regarding Library Curb-Side reading books.
---------
Student Store: Click here to access the student store to purchase items
(not compatible with Safari and Mac)
Wellness and self-care information and resources during school closures are available for students and families using the following link:
Click here to access Counselor contact information
---------
Thank you, Ms. Rivas, for creating this presentation.
---------
Ramona Office Hours during Distance Learning:
Monday & Wednesday: 8am - 2:00pm
Tuesday & Thursday: 8am - 3:30pm
Friday: Open virtually, please call or email for assistance
School Phone: 909-971-8260 School Fax: 909-971-8269


Cyndi Smith, School Secretary/Principals Office ext 6011 csmith@bonita.k12.ca.us
Barbara Keck, Registrar and Counseling Secretary ext 6050 keck@bonita.k12.ca.us
Dezere Ball, Attendance and Asst. Principals Secretary ext 6031 ball@bonita.k12.ca.us